Have you watched Episode 41 – Ram Ravan Yudh day 1 in Ramayan Ramanand Sagar TV serial. Take this quiz to know much you learned from Episode 41 – Ram Ravan Yudh day 1 of Ramanand Sagar TV serial Ramayan.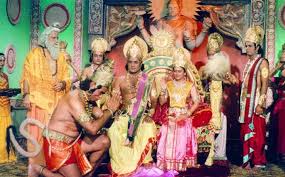 #1.

On whom Ravan uses Shakti Prahar?
#2.

Who takes the Shakti Prahar on him?
#3.

Why did Sri Ram protect from Shakto Prahaar of Ravan?
#4.

After taking Shakti Prahaar on himself who hits Ravana with Gaddha?
#5.

Why does Ravana's Sarthi takes him out of battlefield for awhile?
#6.

Who suggests Ravan even at the end to take shelter from Sri Ram?
#7.

Who applies ointment on Sri Ram's injuries?
#8.

Does Ravan confess in front of Bhagwan Shiv of his proud?
#9.

How does Sri Ram protect himself from arrows of Ravan?
#10.

Which whose directions, Raja Indre sends his Divine chariot for Sri Ram?
#11.

Who designed the divine chariot of Indre?