Have you watched Episode 27 Lanka Gaman of Ramayan Ramanand Sagar TV serial Ramayan. Take this quiz to know much you learned from thisEpisode 27 – Lanka Gaman – of Ramanand Sagar TV serial Ramayan.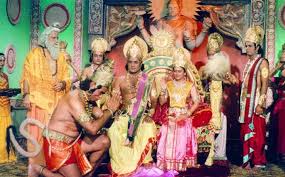 Results
Let other know how much you know about Ramanand Sagar Ramayan.
Share your Score/Result
Click here to take more
Ramayana Quiz
#1.

What does the Vanar Sena sent in South direction while returning drink to show their success and happiness?
#2.

Does the South direction Vanar Sena accomplish their work?
#3.

What does Hanuman give to Sri Ram as Mata Sita's remembrance?
#4.

Who gives the detail of Lanka and its army to Sri Ram?
#5.

Why does the minister and Inderjeet suspect about the intention of Vibhishan?
#6.

Who is called for the renovation work of Lanka?
#7.

Who leads the Sena Nayak of the Vanar Sena ready to fight Ravan?
#8.

In which Nakshatra Vanar Sena leave for Lanka?
#9.

Who is given the responsibility to be on the front line to find out the way for Vanar Sena?
#10.

From where does Sri Ram plan to have control over the whole Vanar Senaa?