Have you watched Episode 29 – Samudra Pooja by Ram of Ramayan Ramanand Sagar TV serial. Take this quiz to know much you learned from this Episode 29 – Samudra Pooja by Ram – of Ramanand Sagar TV serial Ramayan.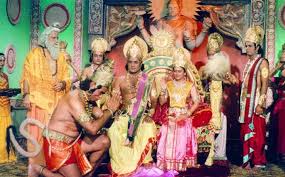 Results
Let other know how much you know about Ramanand Sagar Ramayan.
Share your Score/Result
Click here to take more
Ramayana Quiz
#1.

Which of Ravana's minister enters into Sri Ram's Vanar Army to convince Raja Sugreev?
#2.

In which form does Shook enter into Sri Ram's Army and hear their talks?
#3.

In whose camp room does Shook the messenger enters?
#4.

Is Raja Sugreev convinced to be on Ravana's side?
#5.

Vibhishan gives the suggestion to …..
#6.

Who brought Sea on the Earth?
#7.

How many days Sri Ram meditates and worship Sandhu Deveta without food and water?
#8.

Where does Mata Kaushlaya see Sri Ram in her dream?
#9.

Sri Ram angrily takes out which arrow to aim at Sandhu Deveta?
#10.

Who in childhood were cursed that whatever they will throw in the sea it will float?