Have you watched Bharat Milaap Episode 12 of Ramanand Sagar TV serial Ramayan. Take this quiz to know much you learned from this Bharat Milaap Episode 12.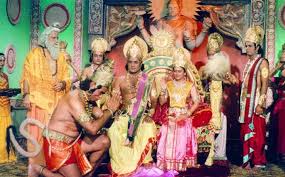 Results
Let other know how much you know about Ramanand Sagar Ramayan.
Share your Score/Result
Click here to take more
Ramayana Quiz
#1.

What does Bharat take with him to Chitrtakoot Parvat except Chaturangini Sena?
#2.

Does Nishadraj suspect Bharat's sanctity when he sees him with his chaturangini sena in forest?
#3.

What does Bharat consider Nishadraj when he comes to know about him as Sri Ram's friend?
#4.

How does Bharat promise to go to Chitrakoot after meeting Nishadraj?
#5.

Does Lakshman doubt after Bharat's intention when he sees him with soldiers?
#6.

Who warns Lakhman when he takes the oath to kill Bharat?
#7.

What does Guru Vashisth call Bharat?
#8.

Amongst all mothers,which mother's blessings does Sri Ram take first?
#9.

What does Sri Ram and Lakshman do in Mandakini River?
#10.

Does Sri Ram go back to Ayodhya with Bharat?