Have you watched Bharat Vilaap Episode 11 of Ramanand Sagar TV serial Ramayan. Take this quiz to know much you learned from Bharat Vilaap Episode 11.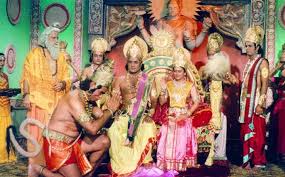 Results
Let other know how much you know about Ramanand Sagar Ramayan.
Share your Score/Result
Click here to take more
Ramayana Quiz
#1.

How is Raja Dashrath's dead body preserved?
#2.

Why the dead body of Raja Dashrath has to be preserved in special medicine?
#3.

Who acts as the working King of Ayodhya after the death of Raja Dashrath?
#4.

What is the reaction of Bharat after coming to Ayodhaya from Maternal house (nanihal)?
#5.

In anger and sorrow what does Bharat say to his mother?
#6.

What were the last words of Raja Dashrath?
#7.

Who informs Bharat about the death of Raja Dashrath and political scenario of Ayodhya?
#8.

Does Bharat accept the proposal of being the king of Ayodhya?
#9.

Where does all natives of Ayodhaya plan to go on the request of Bharat ?
#10.

Does Rani Kaikayi accompany all Ayodhya people to Chitrakoot?
#11.

In which river does Bharat submerge the remains of Raja Dashrath?