Have you watched Episode 14 Ram Vanvas Ramayan Quiz of Ramanand Sagar TV serial Ramayan. Take this quiz to know much you learned from this Episode 14 Ram Vanvas Ramayan Quiz .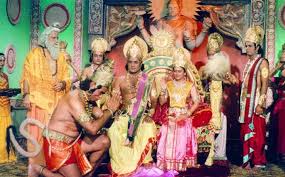 Results
Let other know how much you know about Ramanand Sagar Ramayan.
Share your Score/Result
Click here to take more
Ramayana Quiz
#1.

Whom does Sri Ram meet after coming from Chitrakoot Ashram?
#2.

What is the name of Rishi Attri's wife?
#3.

Mata Anusuya's austerity brought which river in the drought affected area?
#4.

What does Mata Anusuya give to Mata Sita as a souvenir (remembrance gift)?
#5.

Who according to Rishi Attri is desperately waiting for Sri Ram's arrival at his place?
#6.

Which demon is killed by Sri Ram before meeting Rishi Sharbhanga?
#7.

How many years of exile completed till Episode 14 of Ramayan?
#8.

Who makes the road map for Sri Ram?
#9.

Which river is brought by Rishi Agastya on the Earth?
#10.

Who gives knowledge of Tamil language to Rishi Agastya?