Have you watched Episode 17 Sita in Lanka Quiz of Ramanand Sagar TV serial Ramayan. Take this quiz to know much you learned from this Episode Episode 17 Sita in Lanka Quiz.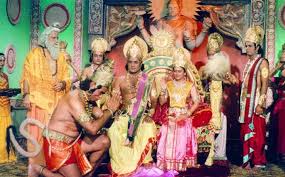 Results
Let other know how much you know about Ramanand Sagar Ramayan.
Share your Score/Result
Click here to take more
Ramayana Quiz
#1.

In which direction does Ravana take Sita ?
#2.

At which place does Ravana keep Mata Sita in Lanka?
#3.

Who informs Sri Ram about kidnapping of Mata Sita by Ravana?
#4.

What is the name of Ravana's wife?
#5.

Which demon takes extra care and console Mata Sita in Ashok Vatika ?
#6.

In whose ashram is Shabri waiting for Sri Ram and Lakshman?
#7.

Which fruit does Shabri offer to Sri Ram and Lakshamn to eat?
#8.

Who gives the address of Raja Sugriv to Sri Ram and Lakshman?
#9.

Sri Ram gives the message of which Bhagti to Shabri ?
#10.

With this episode which kand (part) culminates?