Have you watched Episode 20 Bali Vadh Ramayan Ramanand Sagar TV serial Ramayan. Take this quiz to know much you learned from this Episode 20 Bali Vadh.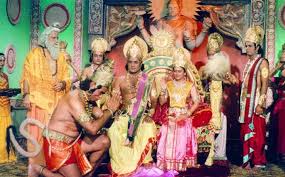 Results
Let other know how much you know about Ramanand Sagar Ramayan.
Share your Score/Result
Click here to take more
Ramayana Quiz
#1.

On whose suggestion Sugreev provokes Raja Bali for Battle?
#2.

Why couldn't Sri Ram kill Raja Bali first?
#3.

What does Sri Ram suggest Sugreev to wear in second battle to differentiate between Raja Bali and Sugreev?
#4.

4.What is the name Raja Bali's wife?
#5.

What does Rani Tara reminds of to wear Raja Bali before going for battle?
#6.

What is the name of Raja Bali's son?
#7.

What does Raja Bali opt between getting recovery from injury or death?
#8.

Before death what does Raja Bali give to Sugreev as a souvenir?
#9.

For which period Sri Ram asks to wait and rearch for Mata Sita?
#10.

Does Sri Ram attend Sugreev's coronation (Rajyabhishek) in Kishkindha?