Have you watched Episode 25 Hanuman in Lanka of Ramayan Ramanand Sagar TV serial Ramayan. Take this quiz to know much you learned from this Episode 25 of Ramanand Sagar TV serial Ramayan.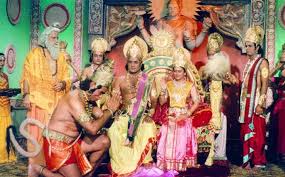 Results
Let other know how much you know about Ramanand Sagar Ramayan.
Share your Score/Result
Click here to take more
Ramayana Quiz
#1.

Ravan is the son of…….
#2.

Who sees the dream in which Ravana was moving in South direction?
#3.

Where is Hanuman hiding in Ashok Vatika?
#4.

What does Hanuman throw from the tree for Mata Sita?
#5.

Does Mata Sita consider Hanuman, the illusion created by Ravan?
#6.

How does Hanuman convince about his identity?
#7.

Where does Hanuman go to eat delicious fruits?
#8.

What is the name of Ravana's son who comes first to fight Hanuman?
#9.

Who comes to fight Hanuman after Akshya?
#10.

Hanuman surrenders himself to Indrajeet because of….