Have you watched Episode 24 Hanuman Crossing Sea of Ramanand Sagar TV serial Ramayan. Take this quiz to know much you learned from Episode 24 Hanuman Crossing sea.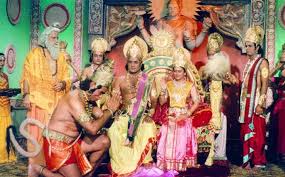 Results
Let other know how much you know about Ramanand Sagar Ramayan.
Share your Score/Result
Click here to take more
Ramayana Quiz
#1.

Which mountain (parvat) comes from almost no where in the midst of sea for hanuman to rest?
#2.

Which demon blocks Hanuman's path in the sea and ask him to be her prey?
#3.

Demon Sursa is sent by God and Goddess to test Hanuman's credibility. What is her actual name?
#4.

At which time Hanuman reaches Lanka?
#5.

Who is demon Lankini?
#6.

Who told demon Lankini that when she will be hit hard by a monkey then Lanka's unfortunate time will start?
#7.

Does Hanuman go to Ravana and Mandodiri's room to search for Mata Sita?
#8.

At the entrance of whose house does Hanuman see the sign of shankh, chakra and Tulsidal?
#9.

Vibhishan, the brother of Ravan is the devotee of which god?
#10.

Who told about Sita being in Ashoka Vatika to Hanuman?