Have you watched Episode 23 Search of Sita Mata of Ramayan Ramanand Sagar TV serial Ramayan. Take this quiz to know much you learned from this Episode 23 of Ramayana Search of Sita Mata.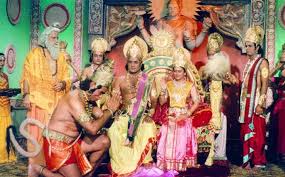 Results
Let other know how much you know about Ramanand Sagar Ramayan.
Share your Score/Result
Click here to take more
Ramayana Quiz
#1.

What is the name of Hanuman's father who comes to see Sri Ram in Prasar Van?
#2.

In how many directions, Raja Sugreev sends his Vanar Sena in search of Mata Sita?
#3.

Who is the leader of South direction search operation (Anveshak)?
#4.

Under how many days the search operation team has to complete the task of searching Mata Sita?
#5.

What is written on the ring (Mudrika) which Sri Ram give to Hanuman?
#6.

Who is Sampati (Gidhraj) to Jatayu?
#7.

How does Sampati able to tell about Mata Sita to Vanar Sena?
#8.

Who reminds Hanuman of his forgotten powers and blessings?
#9.

Hanuman is the incarnation (roop) of which Bhagwan?