Have you watched Episode 42 – Ram Ravan Yudh day 2 in Ramayan Ramanand Sagar TV serial. Take this quiz to know much you learned from Episode 42 – Ram Ravan Yudh day 2 of Ramanand Sagar TV serial Ramayan.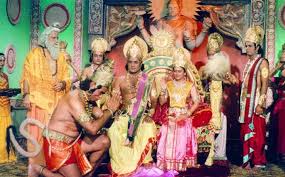 #1.

In which part of Ravan's body is nectar hide?
#2.

How many heads does Sri Ram cut of Ravana's?
#3.

Who suggests to hit arrow on Ravana's naval?
#4.

Which weapon was used by Sri Ram to kill Ravan?
#5.

Which were the last words of Ravana?
#6.

Who does the Rajyabhishek of Vibhishan as the King of Lanka?
#7.

Who gives the message of Sri Ram's victory over Ravan to Mata Sita in Ashok Vatika?
#8.

Why does Sri Ram ask Mata Sita to cross Agni (Agni Pariksha) before coming to Sri Ram?
#9.

How does Sri Ram along with Mata Sita, Lakshman and other Vanar go to Ayodhya?