Have you watched Episode 43 Ayodhya Vapasi in Ramayan Ramanand Sagar TV serial. Take this quiz to know much you learned from Episode 43 Ayodhya Vapasi of Ramanand Sagar TV serial Ramayan.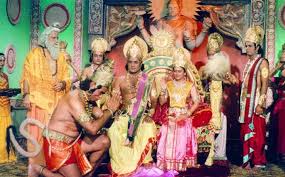 Results
Click
here
to take more
Ramayana Quiz
Scroll Down to know the Answers 
Let other know how much you know about
Ramanand Sagar's Ramayan.
Share your Score/Result
Scroll Down to know the Answers 
Click here to improve your score  take more Ramayana Quiz
#1.

Before leaving Lanka for Ayodhya who comes to bless Sri Ram?
#2.

From whom does Ravan snatch Pushpak Viman?
#3.

On the way back to Ayodhya, Sri Ram meets which Rishi?
#4.

In which form Hanuman disguises himself to inform Bharat about Sri Ram's arrival?
#5.

Which friend of Sri Ram's is waiting to meet him?
#6.

6.Which river is worshipped by Mata Sita?
#7.

From whom does Sri Ram take blessings after reaching Ayodhya?
#8.

What does Bharat offer Sri Ram at Nandigram?
#9.

In which river Sri Ram, Lakshman and Bharat take holy dip and put on royal clothes?
#10.

How do people of Ayodhya welcome Sri Ram's arrival?