Have you watched Episode 30 – Setu Nirman of Ramayan Ramanand Sagar TV serial. Take this quiz to know much you learned from this Episode 30 – Setu Nirman – of Ramanand Sagar TV serial Ramayana.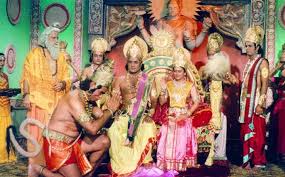 Results
Let other know how much you know about Ramanand Sagar Ramayan.
Share your Score/Result
Click here to take more
Ramayana Quiz
#1.

Whom does Sri Ram worship while Vanar Sena was making the bridge (Setu)?
#2.

The Shivling (Jyotirling) made by Sri Ram at the shore of sea is famous with which name?
#3.

In how many days Vanar Sena under the guidance of Nal-Neel are able to make the bridge?
#4.

How does Mata Sita send her wishes to Sri Ram?
#5.

On which Parvat (mountain) is Ravan and Mandodiri enjoying dance?
#6.

In which form does Shook and Sarang go and investigate about strategy of Sri Ram's Vanar Sena?
#7.

Who arrests Shook and Sarang in Sri Ram's Chavni?
#8.

Does Sri Ram punish Shook and Sarang?
#9.

Who designs the plan the regimentation in Vanar Sena?