Have you watched Episode 31 – Battle Planning of Ramayan Ramanand Sagar TV serial. Take this quiz to know much you learned from this Episode 31 – Battle Planning – of Ramanand Sagar TV serial Ramayan.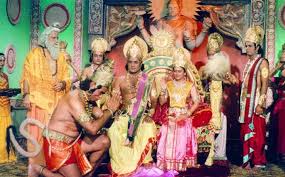 Results
Let other know how much you know about
Ramanand Sagar Ramayan
.
Share your Score/Result
Click here to take more
Ramayana Quiz
#1.

Whom does Ravan appoint as the Senadhyaksha of his army?
#2.

Meghnath defeated which Dev after which he got the name Indrejeet by his father Ravana?
#3.

Whom does Ravana give responsibility to protect the East door of Lanka?
#4.

Who will protect the West Door of Lanka?
#5.

Which direction door is being protected by Ravan himself?
#6.

Which type of Vyooh Rachna (regimentation) is done in Vanar Sena?
#7.

In Sri Ram's army who lead in the West direction?
#8.

Sri Ram, Lakshman, Sugreev and Jamwant will be fighting from which direction?
#9.

Whom does Sri Ram send to Ravan as a Shantidoot?
#10.

Angad makes his own seat in Ravan's court with….