Have you watched Episode 32 – Angad Ravan Samvad of Ramayan Ramanand Sagar TV serial. Take this quiz to know much you learned from this Episode 32 – Angad Ravan Samvad of Ramanand Sagar TV serial Ramayan.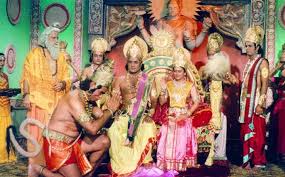 Results
Click
here
to take more Ramayana Quiz Scroll Down to know the Answers Let other know how much you know about
Ramanand Sagar Ramayan
. Share your Score/Result
Click here to improve your score  take more Ramayana Quiz
Scroll Down to know the Answers
#1.

Ravan pleased Bhagwan Shiv by offering his…..
#2.

What message of Sri Ram does Angad give to Ravana as Shantidoot?
#3.

Does Ravan accept the peace proposal of Sri Ram?
#4.

What does Angad, the Shantidoot of Sri Ram challenges everyone in Ravana's Court for?
#5.

What is Angad's reaction when Ravan bends to try his power in lifting his foot?
#6.

How much time does Angad give Ravana to rethink about his decision to fight with Sri Ram?
#7.

Who advise Ravana to send Mata Sita back to Sri Ram with respect and dignity?
#8.

Mandodiri warns Ravana about Sri Ram being the incarnation of Bagwan …..
#9.

Could Ravana sleep that night?
#10.

Did Angad safely reach back to Sri Ram and Vanar Sena?