Have you watched Episode 33 – Ram Ravan Yudh Day 1, of Ramayan Ramanand Sagar TV serial. Take this quiz to know much you learned from this Episode 33 Ram Ravan Yudh Day 1 of Ramanand Sagar TV serial Ramayan.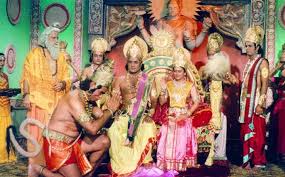 #1.

Who kills Ravan's son Prahastra?
#2.

Which eminent demon is killed by Hanuman?
#3.

Who calls Sri Ram for fight because his father was killed by him?
#4.

How was Khar and Dushan related to Ravana?
#5.

Sri Ram was surprised to see Ravan on the ….. day of battle.
#6.

Lakshman becomes unconscious because of whose arrow?
#7.

After Lakshman, Sri Ram fights with Ravan and leaves him without…
#8.

How does insulted and shocked Ravana go back to Lanka?
#9.

Back in Lanka, what does Ravan order to his minister?
#10.

Who reminds Ravana about his younger brother Kumbhkaran?
#11.

Who is the father of Jamwant?