Have you watched Episode 4 Sita Swayamvar special of Ramanand Sagar TV serial Ramayan. Take this quiz to know much you learned from this Episode.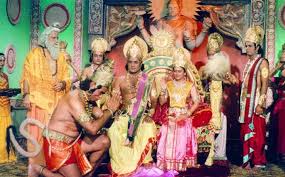 Do share with you family and friends.
#1.

Whose bow was put for Sita Swayanvar?
#2.

Prabhu Ram belonges to which dynastry?
#3.

Who comes after Prabhu Ram breaks ancient Shiva's Bow in Sitaswayamvar?
#4.

On which Mountain (parvat) Bhagwan Parshuram is meditating at the time of Sita Swayamvar?
#5.

How many times Bhagwan Parshuram vanished Kshatriya from the Earth?
#6.

Bhagwan Parshuram is the partial incarnation of which god ?
#7.

Bhagwan Parshuram sees whose image in Sri Ram after sitaswayamvar?
#8.

Bhawgan Parshuram gives whose bow to varify Sri Ram's incarnation?
#9.

In which direction does Bhawagan Parshuram ask Sri Ram to point the arrow ?
#10.

Who is Bhagwan Parshuram's Guru?