Have you watched Episode 7 Kaikayi Vachan of Ramanand Sagar TV serial Ramayan. Take this quiz to know much you learned from this Episode Kaikayi Vachan.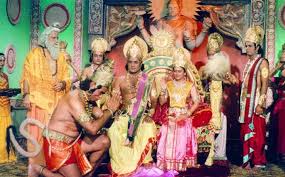 Results
Let other know how much you know about Ramanand Sagar Ramayan.
Share your Score/Result
Click here to take more
Ramayana Quiz
#1.

What is the meaning of 'Triyacharitra'?
#2.

How many boons (vanchan) does Kaikayi ask from Dashrath before Shri Ram's coronation ( Raj Tilak)?
#3.

When does Maharaj Dashrath give two boons to Kaikayi?
#4.

According to Vedas who is called as the Earth' God?
#5.

According to Vedas ,Where should a king stand at the time of war?
#6.

Where does Kaikayi in anger and frustration go?
#7.

Which colored clothes are worn in Kopbhawan ?
#8.

What is Kaikayi's first boon?
#9.

What is Kaikayi's second boon?