Have you watched Vanagaman Episode 8 of Ramanand Sagar TV serial Ramayan. Take this Vanagaman Episode 8 quiz to know much you learned from this Episode.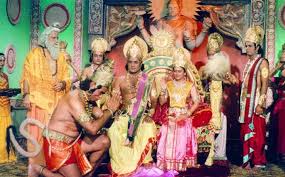 Results
Let other know how much you know about Ramanand Sagar Ramayan.
Share your Score/Result
Click here to take more
Ramayana Quiz
#1.

The decision of Sri Ram from being Raja to Vanvasi was taken
#2.

Who reminds and prompts Rani Kaikayi to ask for her two boons (vachans)?
#3.

What does Rani Kaushalya do before the night of Rajyabishek (coronation) of Sri Ram?
#4.

Who accompanies Sri Ram to exile?
#5.

What responsibility does Lakshan give to Urmila during Sri Rram, Mata Sita and his absence?
#6.

Who accompanied Sri Ram, Mata Sita and Lashman from Ayodhya to exile?
#7.

Who gives Sanyasi vastra( hermit's dress) to Sri Ram, lashaman and Mata Sita?
#8.

Who does not allow Mata Sita to take out her jewels while going to Vanvas?
#9.

Till which river does Ayodhya People follow Sri Ram, Mata Sita and Laksham?
#10.

Who takes Sri Ram , Mata Sita and Lakshman for exile in chariot?