Have you watched Sri Ram in Vanvas Episode 9 of Ramanand Sagar TV serial Ramayan. Take this quiz to know much you learned from this Episode.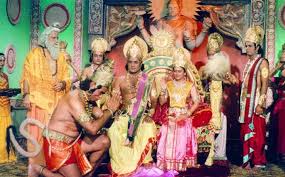 Results
Let other know how much you know about Ramanand Sagar Ramayan.
Share your Score/Result
Click here to take more
Ramayana Quiz
#1.

What is the name of Sri Ram friend whom he met after crossing Ayodhya territory?
#2.

What does Sri Ram take from Ayodhya as a souvenir with him in 14 years exile?
#4.

Which is the first river crossed by Sri Ram, Lashman, Sita along with Vishadraj?
#5.

What is the name of the boatman who helped in crossing the Ganga River?
#6.

What does Mata Sita offer to give to Kevat as fare?
#7.

Where does Sri Ram Ram ,Mata Sita, Lakshman and Vishadraj reach after crossing river Ganga?
#8.

Which Rishi do they meet after reaching Prayagraj?
#9.

Which place does Rishi Bhardwaj suggest for Sri Ram, Mata Sita and Lakshman to stay during exile?
#10.

To reach Chitraoot parvat which river does they cross?